The Otherworld Gallery
www.otherworldgallery.co.uk



The Art of Lauren Isherwood

My work is inspired by scenes and images from the natural world, myth, magick.   I live in the County of Buckinghamshire and am heavily influenced by the local countryside and rural setting.  I have a strong sense of history and am often inspired to produce paintings of subjects and places with ancient spiritual significance.
Much of my work is produced using acrylics, pastels and mixed media.
In my shadow boxes, I use a wide variety of diverse materials and objects.  These items are derived from many sources.  Over time, they are either handmade or gathered until brought together as a collection in one final decorative piece.
I hope you enjoy looking at my gallery of past  work.     
 Lauren
Studies of Stonehenge.
Acrylic on Canvas
Booker Park School, Aylesbury.
Acrylic on Canvas
.This painting was gifted to the school soon after the building work was completed. It was unveiled by
HRH Sophie, Countess of Wessex, when she performed the official opening of the school in June 2007
Other Examples of my Work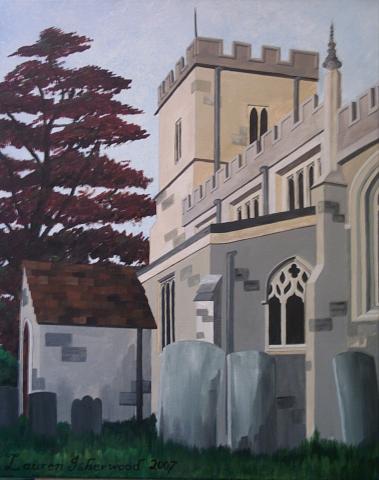 Master John Schorne
St Mary's Church, North Marston
Acrylic on Wood

In 2006, I was commissioned to paint an image of John Schorne, a medieval cleric who lived in North Marston and became the focus of many stories of healing.  He was credited with curing sick cattle, founding the village holy well and "conjuring the devil into a boot".  It is thought that this legend gave rise to the invention of the popular children's toy, The Jack in the Box. Many medieval houses have been found to have boots and shoes built into the structure of the walls as a means of repelling evil.  This practice is thought to have originated with the John Shorne legend.  
The painting was commissioned and gifted to St Mary's church in 2007 by Michael and Alison Finnemore.